*disclaimer: I was given free tickets to To Move In Time at Chapter Arts Centre Theatre in exchange for this review. All opinions are my own
To Move In Time
Review
VERDICT:
★★★★☆
"an intense but enjoyable monologue"
For someone who finds the concept of time tricky as well as hard to swallow, I was thrilled to receive an invitation to see To Move In Time produced by Forced Entertainment at Chapter Arts Centre. As it so happens, I'm also currently reading the book Timekeepers by Simon Garfield at the moment too – what are the odds?
Written by Tim Etchells and performed solely by Tyrone Huggins, To Move In Time brings a combination of humour with some hard-hitting truths to an intense but enjoyable monologue, just shy of an hour long.
Each new section of the monologue starts with the repeated phrase "If I could move in time…" and discusses a new possibility of this phenomenon that humans have been fascinated with for years – which is also hugely represented in our film and literature. I was surprised when I realised that this was the first theatrical production that covers the theme.
As our leading man goes through each scenario, he truly takes the audience on a journey in a way that audiences are hung on his every word throughout. As if the character is thinking of these possibilites for the first time, we are experiencing his own thoughts with him and through one look of his eye or jerk of the head we can see how his attitude changes. The way in which Huggins does this really captivated me as we were truly seeing his journey through his own thoughts and both the audience and character arrive at the conclusion together ingeniously.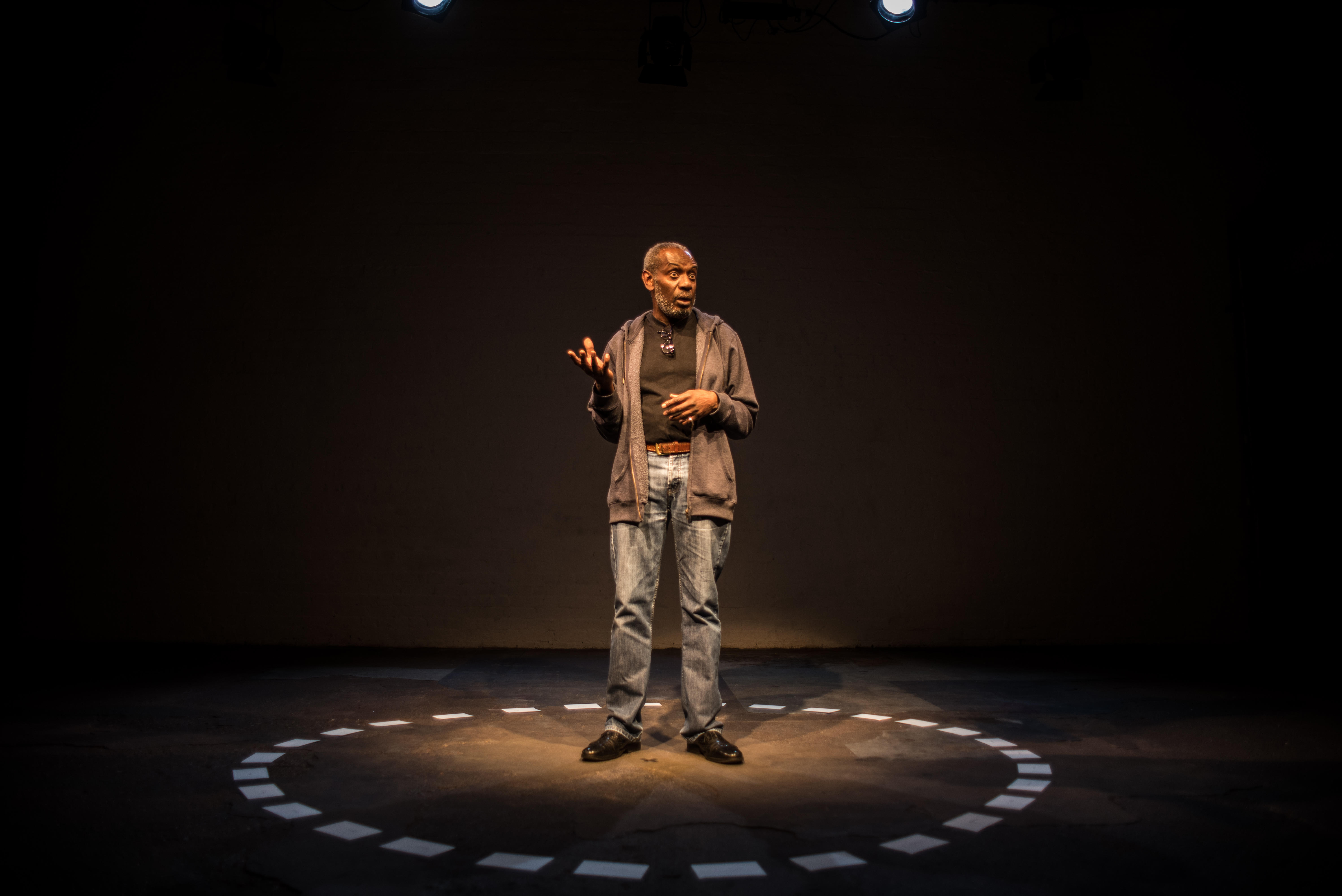 The set for the show is minimalistic yet effective. The character walks onto an almost-empty stage and steps inside a perfectly formed circle of white – what I initially thought was paint – flashcards. The circle is unbroken and gives the impression of a clock. Against a black floor and minimal lighting, the white circle clearly stands out in contrast and adds a very intimate sense to the play.
The only thing I found slightly jarring about the flashcards, was that it was noticable on more than one occasion that the actor had forgotten the next section of the monologue, and had to look down for cues. There were times when I questioned whether he was looking for cues or this was part of the movement of the show, but there were also definitely moments where it was clearly unplanned. I do appreciate that the show was nearly an hour long and the whole thing a monologue, making it incredibly tricky to remember, but had this been previews of a show I wouldn't have questioned it. In a real performance I found it disappointing. I personally dislike it when a show – for whatever reason – reminds me that I'm in a theatre (unless it's planned breaking the fourth wall), and I found that upon looking to remember lines, I experienced just this.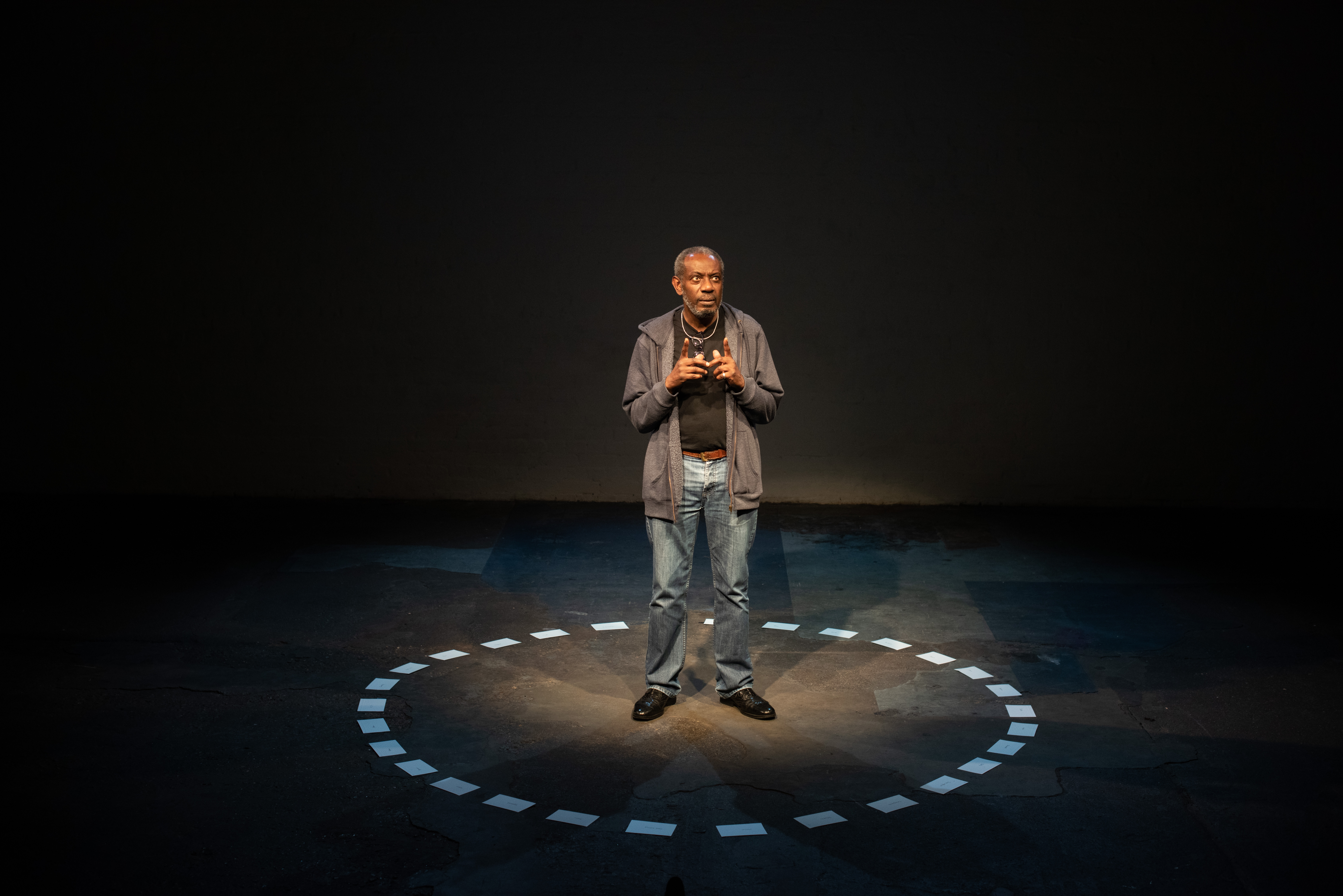 Aside from this, Huggins gives a great performance, with careful consideration of every word, enough interaction and looks to the audience to remind us that he is talking to us, but not too much that makes us feel we have to answer. His comedic timing is brilliant, as is the tone of his voice when hard-hitting truths come out.
As aforementioned, time is a topic that is frequently covered in culture in all forms. I am sure that novels such as George Orwell's The Time Machine or Audrey Niffenegger's The Time Traveller's Wife would have inspired the work, not forgetting the hundreds of films such as Back To The Future, The Butterfly Effect starring Ashton Kutcher or About Time, starring Rachel McAdams. The issue I had with the play is that when it comes to time travel, there is limited scope with the direction of the narrative.
As the monologue discussed many different possibilities of what could happen if one travels in time, I somehow felt reminded of these other pieces rather than necessarily focusing on what was being said before me. In short, I'm not sure what new concepts the play offered – though I'm also not sure what other directions there could have been.
Nonetheless, the one-man monologue was incredibly insightful and had thought-provoking moments perfectly intertwined with comedy, before eventually realising that sometimes it's better to leave time alone and be grateful not only for the time we have left, but all the events in time that have led us here.
To Move In Time played at Chapter on 4 & 5 February 2020 and is heading out on a UK Tour to Sheffield, Birmingham, Exter and more.