The Book of Mormon
Review
VERDICT:
★★★★☆
"this humorous show will knock your socks off"
Despite playing for sevenyears at the Prince of Wales Theatre in the heart of London, I had never seen The Book of Mormon before. My brother owed me tickets for my 20th birthday, and over two years later he finally fulfilled his promise in taking me.
It was one of the only long-running shows that I knew nothing about the plot or the songs. The only songs I knew before seeing the show were "Hello" and "I Believe" and I think that not knowing the plot or the songs before made the show so much more enjoyable for me.
I knew that The Book of Mormon, more than anything, is a comedy, and I can assure you that yes the show is as funny and crude as you would expect, especially considering it was written by the same writers as hit animated comedy TV series "South Park". I found a lot of the humour came from the sheer shock of how many social boundaries the show pushed. Even one swear word had the audience laughing, purely because this isn't conventional of theatre, and this is where a lot of the comedy comes from.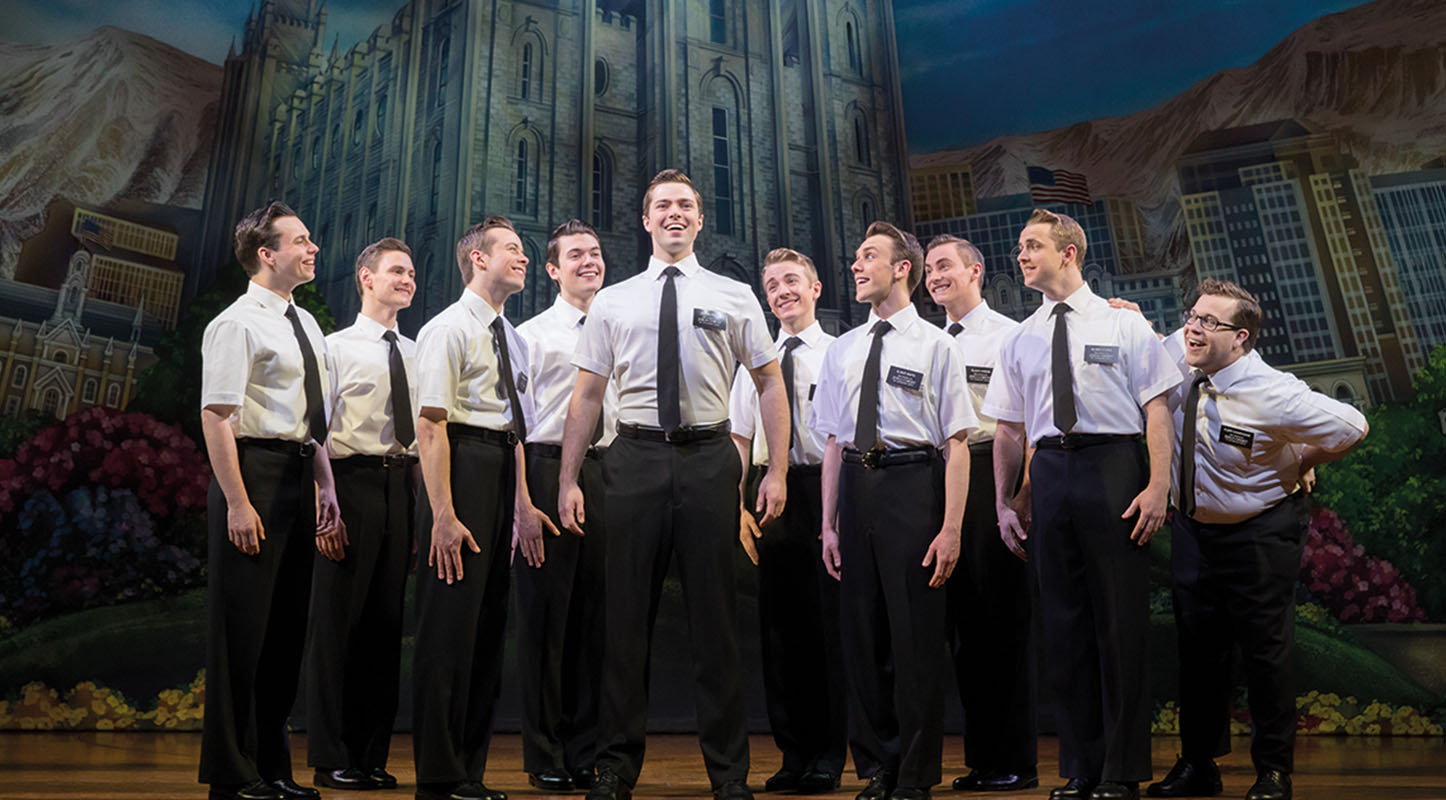 Of course, every element of the show contributes to the humour. From the outrageous songs, racial and religious comments and superb acting, The Book of Mormon pulls together so many aspects to make it a brilliant show.
Keen and upbeat Mormon Elder Price (Dom Simpson) is sent to Uganda with the runt of the litter of the Mormons, Elder Cunningham (Tom Xander), to try to convert the citizens to the church. Along the way they meet other Mormons, including Elder McKinley(Steven Webb), who stole the show for me, the people of the village including Nabalungi(Leanne Robinson), Mafala Hatimbi(Richard Lloyd King) and the General(Michael Moulton). Elder Cunningham uses "unconventional" methods to convert the villagers, and before long the lies have got out of control, spiralling into chaos for the characters and laugh-out-loud moments for the audience.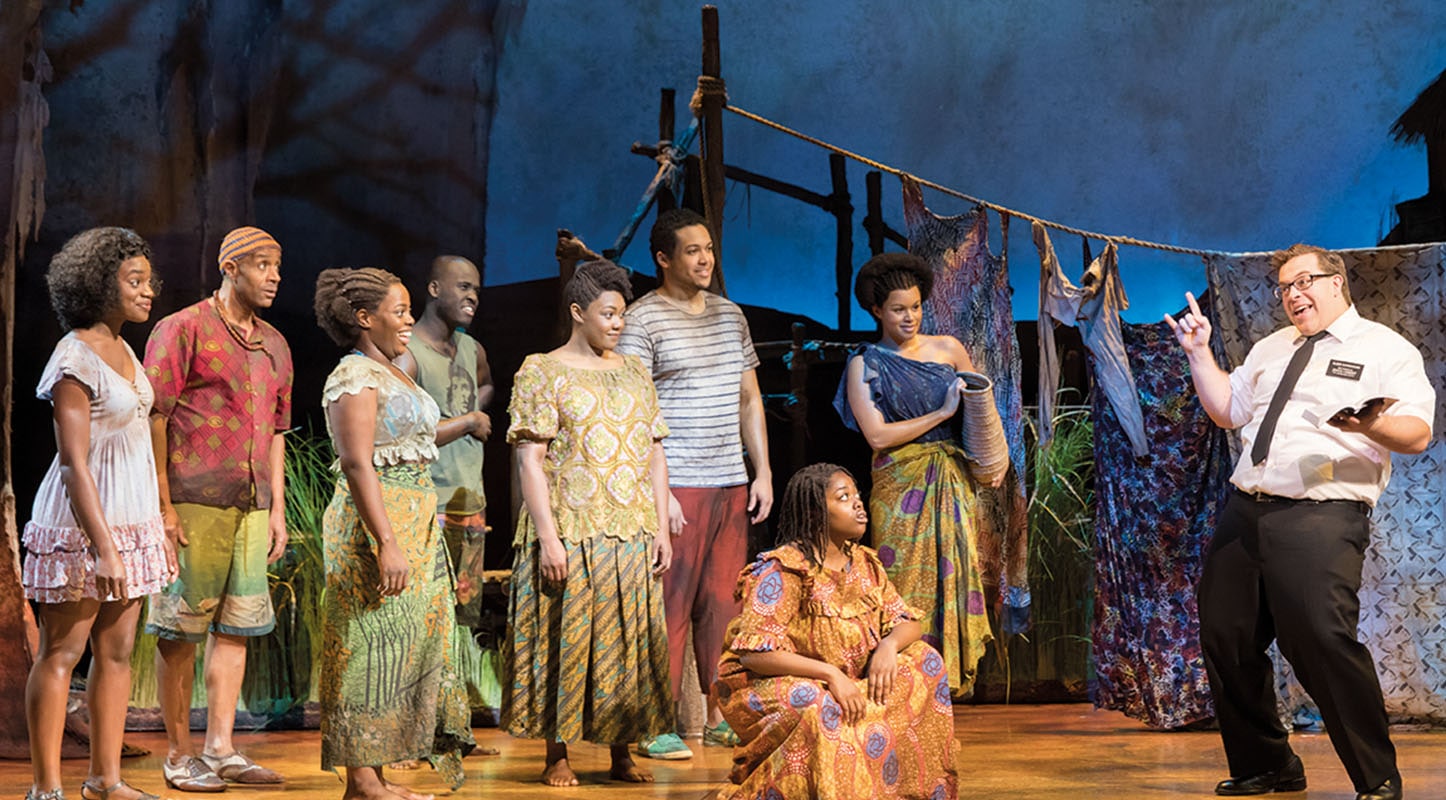 Some jokes I find did get a little old throughout the show, such as Elder Cunningham's lack of ability to remember Nabalungi'sname, calling her Nesquick, Nintendo and No Deal Brexit, along with many other things. And while this was funny, it wasn't quite enough to carry the humour throughout the show for me.
Similarly, while Steven Webb did an absolutely superb job as Elder McKinley, and his rendition of Turn It Off was both side-splittingly funny and excellently performed, I found his character's humour to wear off on me by the end of the show. Some songs also felt slightly too similar and again relied on the same humour to keep it going, with Turn it Off, We Are Africa, Two By Two and All-American Prophet having that upbeat chorus number feel to it, and the songs blurred a little too much into one for my memory.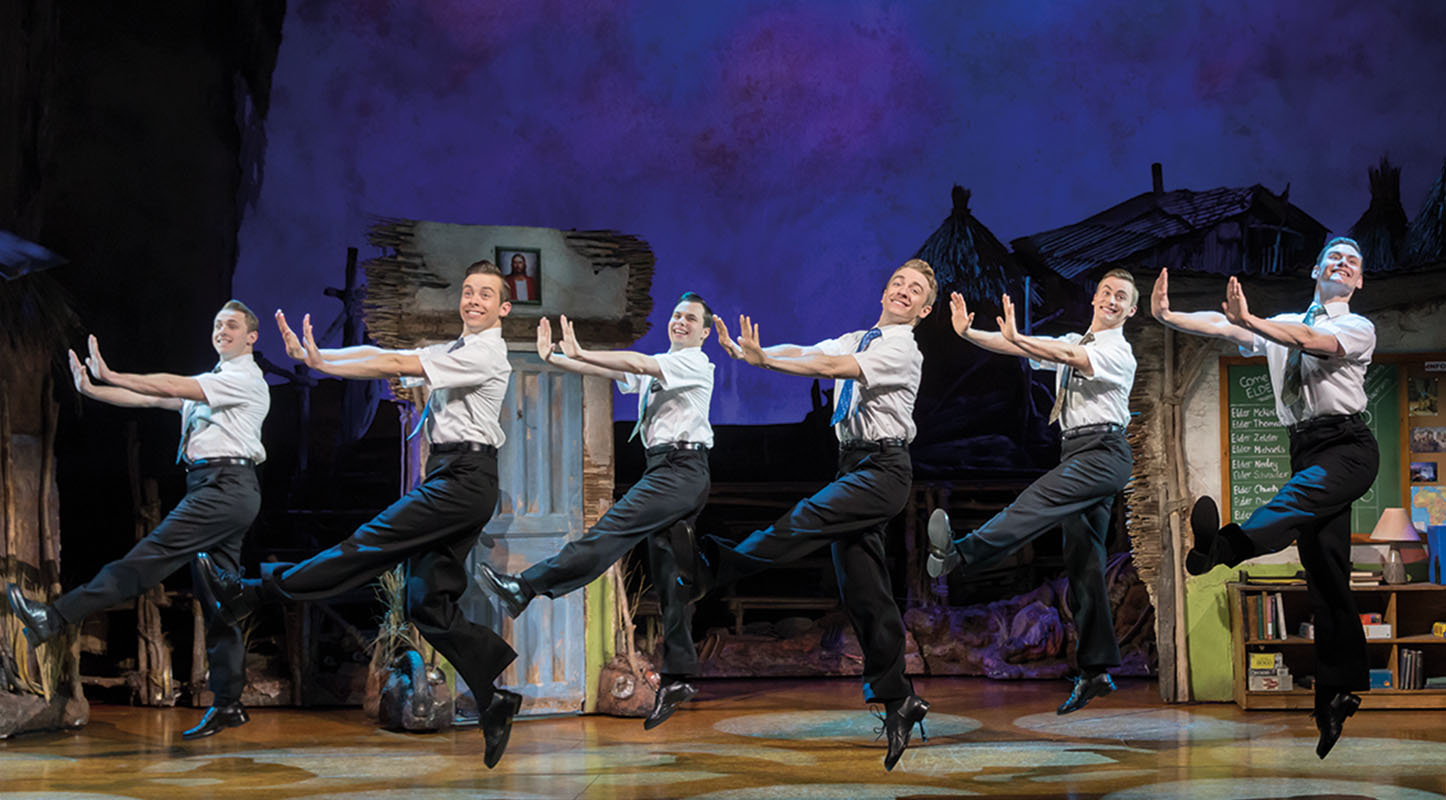 Having said that, the performances from everyone one stage were something to be applauded. Considering how many big upbeat numbers there were, no Mormon missed a beat of either dance or song and their bright smiling faces did keep me laughing still.
Tom Xander as Elder Cunningham was nothing short of brilliant. With a performance that echoed Josh Gad who originated the role, he really was entertaining and refreshing. His solo Man Up and duet Baptize Me with Leanne Robinson were brilliant and the show wouldn't have worked without him. It is impossible to credit this amazing cast without highlighting Leanne again. Her innocence and naivety is brilliantly funny, her aforementioned duet of Baptize Me was unforgettable and her vocals during Sal Tlay Ka Siti wowed every member of the audience without question.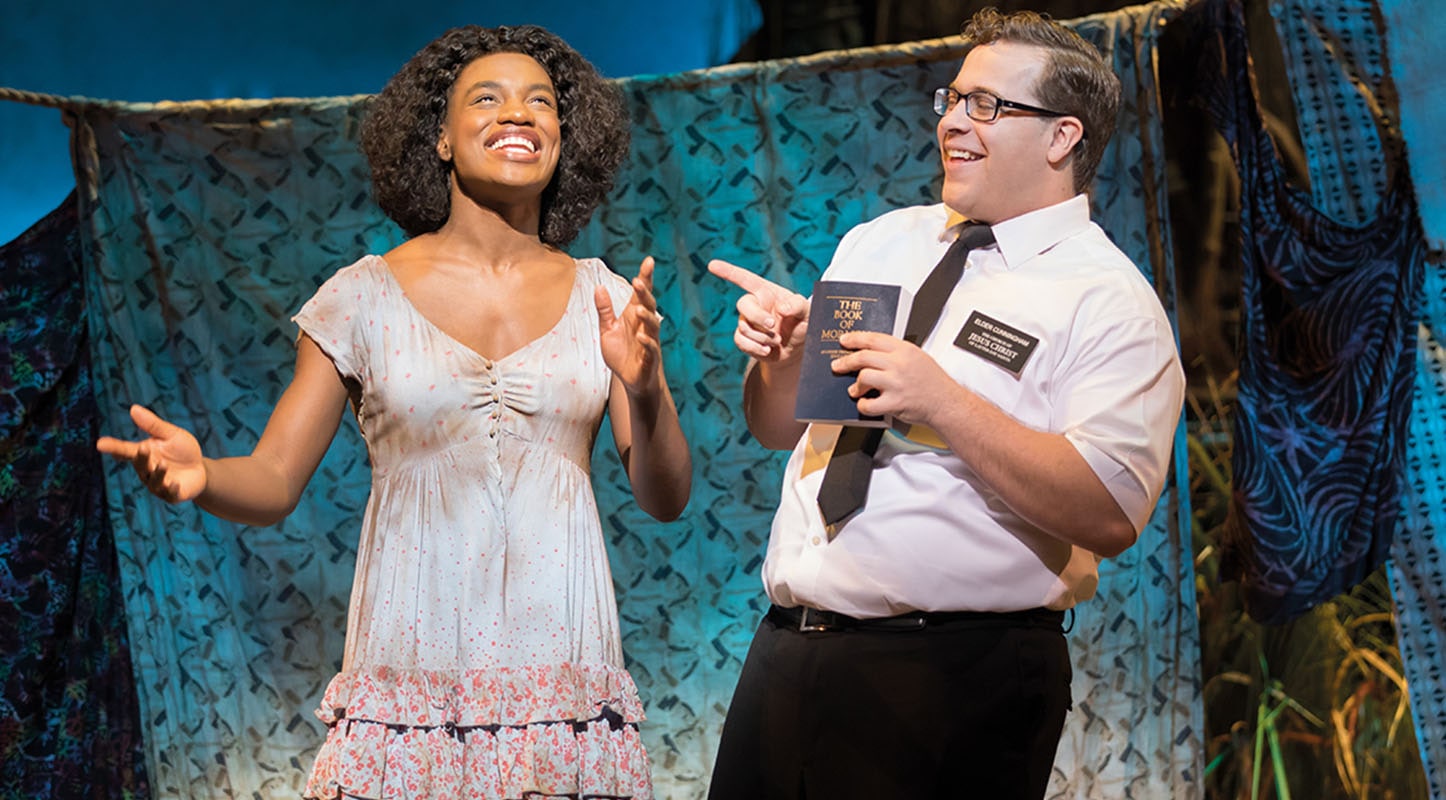 Dom Simpson as lead Elder Price was great also, but his performance didn't wow me as much as others did. All three of his vocals, acting and comedic timing were perfectly on point, so I can't quite put my finger on what it was that he did that was "wrong" – perhaps he just wasn't to my taste. In contrast, Steven Webb as Elder McKinleyperfectly hit the nail on the head for me and delivered a faultless performance in my opinion.
Other supporting roles from Richard Lloyd King as Mafala Hatimbi and Michael Moulton as the General did a great job at pulling the show together and making it the success it is.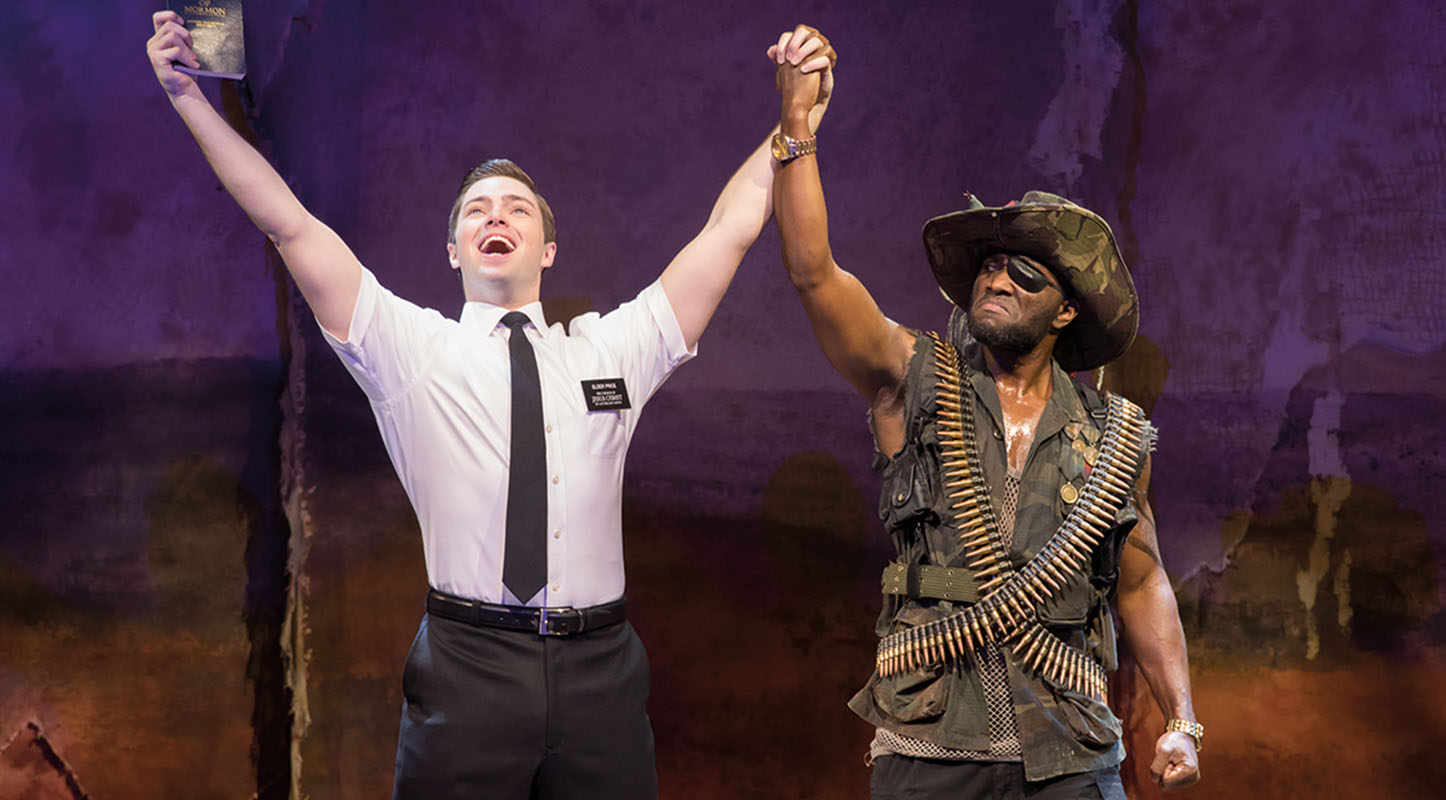 Despite saying that I found some of the humour to be tiringly repetitive, I'd be lying if I said I wasn't laughing out loud on multiple occasions. This humorous show will knock your socks off and you'll leave with a smile on your face (if you aren't too offended by the content, that is).
Some aspects of the plot are truly whacky (don't even get me started on Spooky Mormon Hell Dream and the villager's rendition of the story of Joseph Smith), but that is what makes the show all the more enjoyable. I would truly recommend seeing this production, but only if you are willing to laugh at yourself and if you aren't too sensitive. Definitely one to go to with a relaxed crowd and have a good time, as well as enjoying some of the West End's most talented performers. It's got dancing, it's got acting, it's got great vocals, humour and whackiness but most of all, it's got maggots in your scrotum!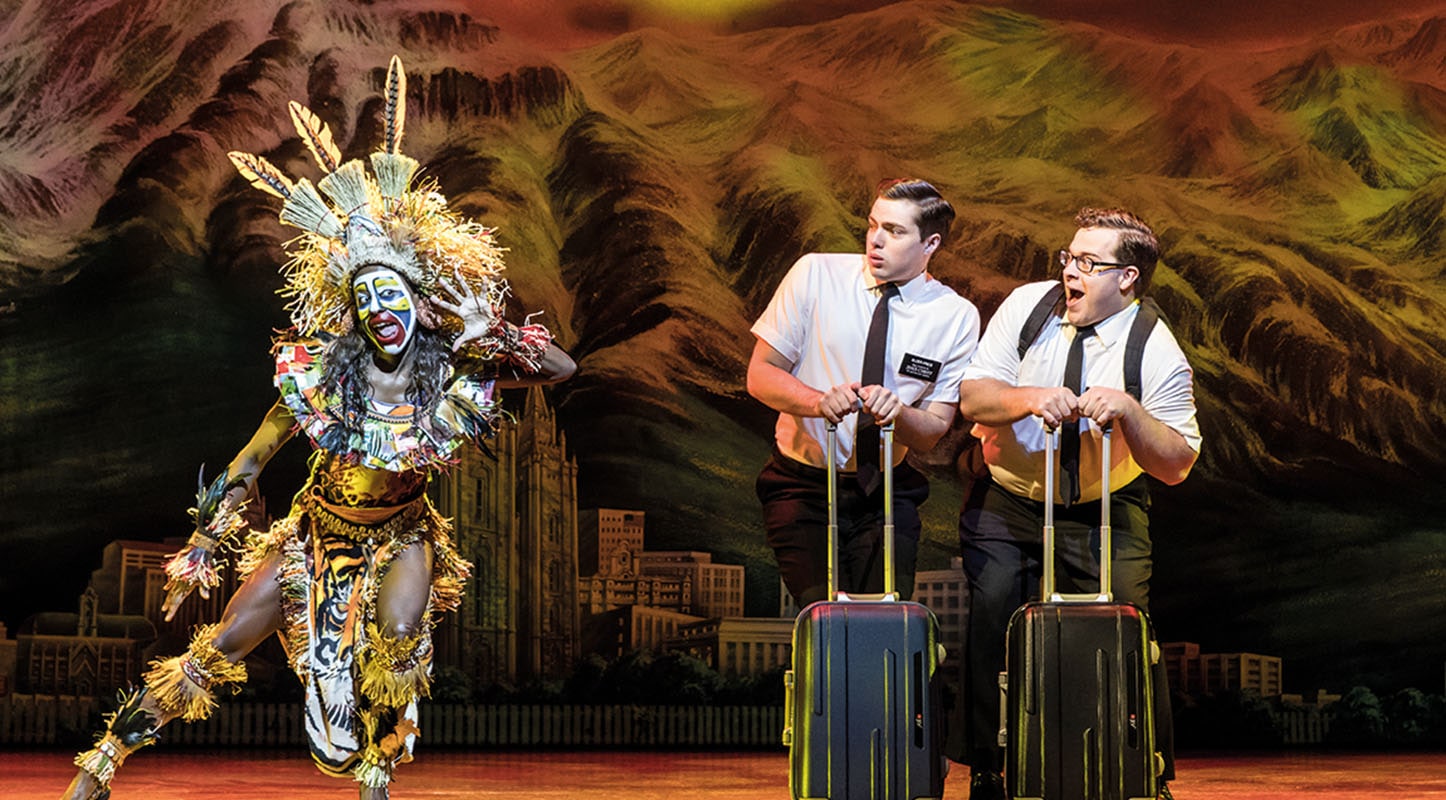 The Book of Mormon is playing at the Prince of Wales Theatre.
The Book of Mormon is currently on a UK Tour playing in Manchester until 24 August 2019and opens in Bristol on 15 January 2020. Further dates and venues to be announced.