User Not Found
Review

VERDICT:
★★★★☆
"the most original piece of theatre I've ever seen"
The first notable thing about User Not Found was the fact that, yes, it was performed in a coffee shop – not a theatre. And this wasn't the only thing that drew me to see the show. The performance was also delivered through a set of headphones and a smart phone.
As 30-or-so audience members cosily sat in chairs and sofas in a very real coffee shop, we were given the headphones and smartphones, told what to do with them, and eagerly waited for this immersive and unique theatrical experience to start. I suddenly heard background noise coming through my headphones and a gentleman talking. As it so happens, the gentleman was the one-man actor in the show and he was sat at the other end of the coffee shop, blending in with the audience.
The show was essentially an hour and half-long monologue, but the incorporation of the soundscape, lighting and technological elements of the show made it the exquisite production it was.
The story put forward a debate to its audiences that when you die, should you delete your social media and online presence, or preserve it forever? Should death be something only remembered by the living, or should our digital selves outlive us?
In the show, the main character, Terry (played expertly by Andy McLeod), is left in charge of his ex-boyfriend's online legacy, when he dies in a tragic accident six months after their breakup. Not only does the show tackle the debate of the social media presence, it also deals with sensitive issues such as death, grief and loss, and incorporates many layers to make it truly deep and moving.
Social media is an enormously huge aspects of all of our lives today, so this show couldn't possibly be more relevant or relatable. The integration of an inter-racial homosexual couple also proved that this show is up-to-date and wholly inclusive.
Throughout the show, Andy McLeod was intertwining and interacting with the audience, but we could mainly hear him through our headphones. With the smartphone, we were experiencing things as character Terry did, including receiving text messages, scrolling through Facebook, and looking at the idea of an online legacy that could outlive you.
The soundscape made everything feel so real; from the buzz and noise of a text message, to the background noise of a busy coffee shop, this was immersive theatre at its finest.
The show was full of passion, which was brought to the forefront by Andy McLeod. In order to perform so perfectly in a coffee shop of all spaces, on his own for an hour and a half in a truly unique show, he had to be an outstanding actor. To say he took us on a journey is a complete understatement, and I found myself getting quite emotional at parts.
My only personal critique of the show is that I feel it didn't challenge me as much as I had hoped. Upon reading about the show and watching the trailer, I knew that the concept was about whether to delete your online legacy after you die. I had my mind made up on my own answer within 10 minutes, and my opinion never faltered, nor did the show present me with valid arguments for the other side of the debate.
There were also a handful of points in the show that were slightly too abstract for my taste, and it made me lose focus on the show as a whole, which was a slight shame.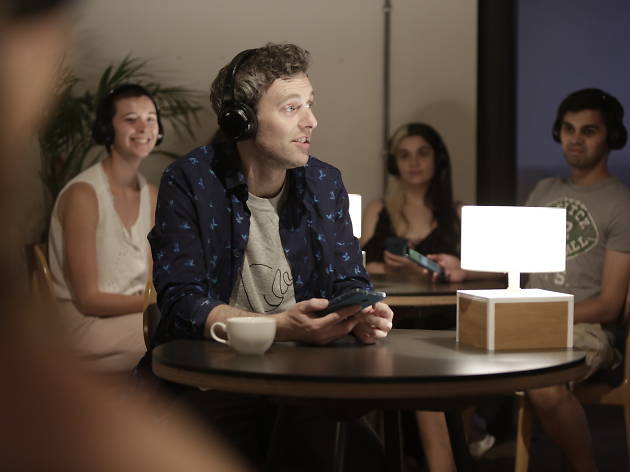 However, everything else about the production was outstanding and it truly was the most original piece of theatre I've ever seen. Dealing with the aforementioned concepts in such a modern and unique way was ingenious, and I believe that this is what theatre in 2019 can be, if enough other companies take note of Dante or Die's brilliant work.
The show was inclusive, as being captioned it was open to those who are deaf and hard of hearing, the audience was one of all ages and genders, and it is a production for everyone to see and enjoy. If you get the chance to see this amazing show, do not turn it down. Everyone needs to see User Not Found.
User Not Found continues at Quantum Coffee Roasters in Cardiff Bay this evening, before heading to Isle of Wight, Scotland, Hull, Norwich, Battersea and Cork until 17th June 2019.